Michael Norbury looks at the odds of every division in the AFC and where you might be able to find an edge
AFC East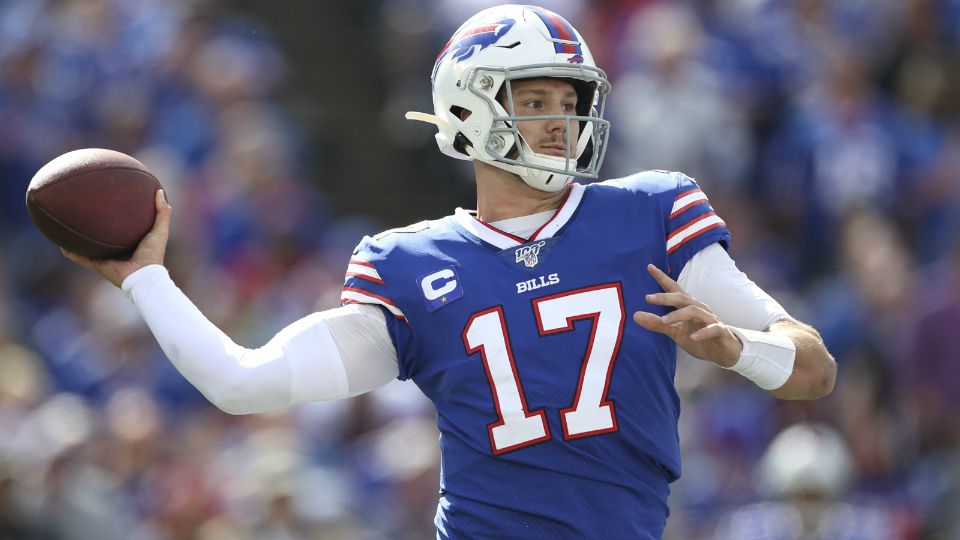 Buffalo Bills – 5/4 (Bet365)
Projection – 1st
2019 saw the Bills form a run to the playoffs built around a solid defense, Buffalo's 16.2 points per game conceded in the regular season ranked 2nd in the NFL and they should continue to excel in this department. Offensively there is one big question hanging over Sean McDermott's men, is Josh Allen the man to take them forward under centre? Allen has potential to be a genuine dual-threat Quarterback but failed to build on his 2018 rookie season and all eyes will be on the former first-round draft pick. Buffalo acquired Stefon Diggs in the off-season to add a quality weapon to an already above average receiving corps in Cole Beasley and John Brown. Running Back Devin Singletary impressed in his rookie campaign and is expected to build on that in the coming season. 2020 could finally be the year for Buffalo to break New England's stranglehold on the division and the 5/4 looks fair enough.
New England Patriots – 11/10 (Bet365)
Projection – 2nd
The GOAT has left the building after two decades under centre in New England. Enter Cam Newton. The 2015 MVP comes with major fitness concerns and even if Newton shakes those off and returns to his brilliant best the Patriots offense looks thin on the ground. Julian Edelman remains a steady pair of hands but could miss Brady with whom he had an almost telepathic connection. The rest of the receiving corps are unlikely to give NFL defenses sleepless nights and the running back room looks solid not spectacular. On top of their offensive woes the Patriots have also been handed the toughest schedule in the NFL based on opponents' 2019 win percentage (53.7%). On a positive note they still have the brilliant Bill Belichick at the helm and possess one of the better defenses in the NFL. Both will have to fire on all cylinders to avoid a rare season of suffering for Patriots fans.
New York Jets – 9/1 (Bet365)
Projection – 3rd
Realistic supporters of the Jets will look to 2020 as a year for growth following an underwhelming 7-9 season. The Jets were okay defensively in 2019 but face a battle to keep star safety Jamal Adams, providing they can resolve this their defense will be fine in 2020. Offense is where the Jets really need to make strides, they have invested in the O-Line in a bid to unlock the potential of quarterback Sam Darnold and the disappointing Le'Veon Bell at running back but this still looks like one of the weaker O-Lines in the NFL. The receiving corps is underwhelming, promising rookie Denzel Mims will have to hit the ground running and tight end Chris Herndon build upon a promising 2018 rookie campaign after missing 2019 through suspension and injury. Questions around Head Coach Adam Gase continue to gain momentum especially with his name being linked to Adams desire to leave, he needs to win games or his future in New York may be short-lived.
Miami Dolphins – 9/1 (Bet 365)
Projection – 4th
The pandemic hit off-season may affect Miami more than any other team in the NFL. There's new talent aplenty in Miami, talent they have been unable to assess and shape to their methods out on the practice field. The Dolphins probably overachieved in 2019 to go 5-11 and with new faces looking to adapt, a similar record looks likely. They got their Quarterback in Tua Tagovailoa and will look to get him settled in behind a new look Offensive Line. Wide receiver DeVante Parker looks to prove he is the man in Miami after the 2015 first-round pick had his best season yet in 2019, while tight end Mike Gesicki could also be a dangerous receiving weapon. Matt Breida and Jordan Howard come in to offer at least some sort of running game after Veteran Quarterback Ryan Fitzpatrick led the rushing yards in 2019! 2020 will see an almost entirely new defensive line-up in Miami after a desperate 2019 season. Standout names such as Kyle Van Noy and Byron Jones join a glut of new faces both established and rookie. There is undoubted talent in Miami, Dolphins fans will hope to see it gel as the season progresses and they may just surprise a few people.
AFC North
Baltimore Ravens – 4/11 (Bet365)
Projection – 1st
The Ravens were breath-taking in 2019, taking the AFC by storm with a devastating offense inspired by MVP Lamar Jackson. The shock defeat at the hands of a Derrick Henry inspired Titans cut their post-season short and they return in 2020 with unfinished business and eyes set firmly on a tilt at the Superbowl. Jackson usurped Michael Vick on his way to the rushing yards record for an NFL Quarterback leading the Ravens to the record for team rushing yards on their way to a 14-2 season. Baltimore were no one trick ponies though, tight end Mark Andrews stepped up from his promising rookie season amassing 852 yards and 10 touchdowns and rookie wide receiver Marquise Brown showed plenty of promise in a season affected by niggling injuries. If Brown can get healthy in 2020 he can offer a genuine downfield threat for Jackson's underrated arm. The retirement of pro-bowl guard Marshal Yanda is a blow but the O-Line still looks well above average with 2013 first round pick D.J. Fluker rating a solid replacement. Five-time Pro Bowler Calais Campbell stands out amongst new faces on the defensive roster and they should be strong there again in 2020. The Ravens should take the North quite comfortably but the 4/11 on offer is too skinny to make them a play.
Cleveland Browns – 6/1 (Bet365)
Projection – 2nd
There is an abundance of talent in Cleveland, in 2019, too much of that talent misfired and Head Coach Freddie Kitchens paid the price. Kevin Stefanski takes the helm and looks to unlock the enviable potential in the Browns offense. Baker Mayfield proved in his rookie season that he has the tools to be a top Quarterback, Jarvis Landry and Odell Beckham Jr are multiple Pro Bowl talents at wide receiver, Austin Hooper comes in to offer an extra threat at tight end and Nick Chubb is one of the best running backs in the league, not to mention the dual threat option of Kareem Hunt and an O-Line that isn't at all bad. There are no excuses in Cleveland this year, this offense must produce. Defensively the Browns look solid, Myles Garrett will be looking for a big season on his return from suspension and should he and Olivier Vernon find their best form they can give opposing Quarterbacks plenty of headaches. There are issues in the secondary but it is by no means the worst in the league. There could be exciting times ahead in Cleveland and they should make the playoffs for the first time since 2002. The 2/1 on SkyBet for Cleveland to take 2nd in the North is tempting enough.
Pittsburgh Steelers – 19/5 (Bet365)
Projection – 3rd
The Steelers fall into the 'could be anything' category after 2019 never really got off the ground, quarterback Ben Roethlisberger's season ended through injury in Week 2 and with it went Pittsburgh's offense. Back-ups Mason Rudolph and Devlin "Duck" Hodges both tried to fill the void left by Big Ben but fell short of the standard required, Pro Bowl offensive weapons James Conner and Juju Smith-Schuster also struggled for fitness and left the Steelers toothless. No team in the NFL is equipped to deal with losing such key players and it is testament to the quality of their defense that Pittsburgh managed an 8-8 record. The hopeful return of Roethlisberger, Conner and Smith-Schuster undoubtedly brings improvement but the Steelers still look short of the top NFL teams. They have a problem at wide receiver outside of Smith-Schuster after never really replacing one of the league's best in Antonio Brown, the onus is on talented youngsters James Washington and Diontae Johnson to have a real breakout year. The Steelers might not have what it takes to upset the Ravens just yet, but with an offense of some description to go with their excellent defense, a winning season in 2020 looks a realistic aim.
Cincinatti Bengals – 25/1 (Bet365)
Projection – 4th
The Bengals price is a fair reflection of where they are at as a franchise. Off the back of a 2-14 season Cincinatti fans will be looking for signs of progress and confirmation that number one pick Joe Burrow is their man going forward. The Bengals do have talent on offense, the receiving corps is headed by 7-time Pro Bowler A.J. Green, he's a quality weapon for Burrow to throw to if he can shake off 2019's fitness concerns and Tyler Boyd and rookie Tee Higgins rate a solid supporting cast. Joe Mixon leads the running back room and there are certainly worse options out there. The real issue in Cincinatti's offense is the O-Line which might be the worst in the league, 2019 first-round left tackle Jonah Williams missed his entire rookie season and will need to hit the ground running to help Burrow under centre. In defense the Bengals have enough quality up front in the likes of Carlos Dunlap and the newly acquired D.J. Reader to pose opposing O-Lines problems, their secondary however remains a serious weakness. There is enough ability in this roster to surprise a few people but they are still someway short of troubling the better teams in the NFL.
AFC South
Indianapolis Colts – 6/5 (Bet365)
Projection – 1st
The AFC South looks the toughest of all divisions to call and the Colts are a tentative selection to take the top spot. Jacoby Brissett came up short at Quarterback last year and veteran Phillip Rivers comes in to strengthen the Colts under centre. Rivers leaves one of the worst O-Lines in the NFL at the Chargers to play behind arguably the best in Indianapolis and he can have a big season. The weapons at wide receiver are there with 4-time Pro Bowler T.Y. Hilton backed up by the reliable Zach Pascal and the promising duo of Parris Campbell and Michael Pittman Jr. Colts fans will be hopeful Hilton's 2019 injury woes are a thing of the past as he is undoubtedly the main man amongst this corps. The options at running back are full of potential, with exciting rookie Jonathan Taylor likely to share duties with the more than useful Marlon Mack. On the defensive side the Colts look steady. DeForest Buckner looks a brilliant addition to an already solid front but the secondary has its issues, the Colts have taken a gamble on cornerback Xavier Rhodes who really lost his way in 2019, if he can return to his old self he'll be an excellent recruit. The Colts look an all-round good football team and with a high class quarterback in Rivers they can take the South.
Tennessee Titans – 8/5 (Bet365)
Projection – 2nd
Of all the 32 teams in the NFL the Titans may be the hardest to predict. They were the playoff surprise package in 2019 as they stunned both the Patriots and the Ravens before succumbing to Superbowl champions Kansas City. Their playoff run was largely down to the explosive form of running back Derrick Henry, the Chiefs stopped him and as a result they stopped the Titans. What will 2020 bring? Comeback player of the year Ryan Tannehill slotted perfectly into Mike Vrabel's offense last season but must prove he can sustain that level going forward. Derrick Henry is likely to see plenty of action after attempting more rushes than any other player last season, the concern is that opposition defenses will be better prepared for him this season. Wide receiver A.J. Brown looks to build on a brilliant rookie campaign and headline an unspectacular receiving corps. There could be defensive issues in 2020 for the Titans, Jurrell Casey heads to Denver and leaves Tennessee looking weak up front. The secondary looks okay but there is room for improvement here as well. 2020 looks a season that could go either way in Tennessee, Tannehill and Henry will have to be on their A-game again.
Houston Texans – 7/2 (Bet365)
Projection – 3rd
Heads are still being scratched in relation to the DeAndre Hopkins trade. The superstar receiver makes his way to Arizona and the Texans offense looks weaker for it. This is by no means a bad offense though; Randall Cobb, Brandin Cooks and Will Fuller make up the receiving corps and give the brilliant DeShaun Watson enough to aim at for this offense to look a threat through the air. David Johnson comes in at running back to replace Carlos Hyde and looks a step sideways behind an O-Line that looks functional but far from exceptional. Defense is where the Texans have real problems, they look among the worst units in the NFL both in the front and the secondary and teams will fancy their chances of scoring points against them. It could be a struggle in Houston this season with Hopkins out of town and a defense seriously lacking in talent.
Jacksonville Jaguars – 18/1
Projection – 4th
There isn't much to say about Jacksonville going into the 2020 season and a losing season looks a certainty, fans will be hoping cult figure Gardner Minshew builds on a promising rookie campaign and establishes himself as the man at Quarterback. 'Minshew mania' aside the receiving and running options look unspectacular and the O-Line looks poor. Things don't get much better for Jaguars fans when looking at the defense either, Calais Campbell departs for Baltimore leaving the Jags front looking extremely thin on the ground, the secondary isn't the worst in the NFL but certainly not the best either. Jacksonville used both of their first round picks on defensive players in cornerback C.J. Henderson and line-backer K'Lavon Chaisson so fans will be hoping to see signs of a bright future. The present, however, looks bleak.
AFC West
Kansas City Chiefs – 2/9 (Bet365)
Projection – 1st
The Chiefs should take the West comfortably and their sights will be set firmly on a repeat of last season's Superbowl victory. The best Quarterback in the game Patrick Mahomes leads a devastating offense filled with threats for his brilliant arm. Travis Kelce is worthy of being in the argument for the best tight end in the league, Tyreek Hill is a serious deep threat and the supporting cast of Sammy Watkins and Mecole Hardman can give defenses problems. First-round selection Clyde Edwards-Helaire looks an exciting addition at running back alongside Damien Williams and they can offer an extra dimension to this offense behind a solid O-Line. The defense in Kansas City does have its issues, the front seven has holes and is reliant on Chris Jones and Frank Clark and Tyrann Mathieu is key to an otherwise ordinary looking secondary. With an offense this good, the defensive frailties can be excused and the Chiefs look every inch a Superbowl contender again.
Denver Broncos – 9/1 (Bet365)
Projection – 2nd
Denver feel they have found their Quarterback in Drew Lock and the weapons are there around him for this offense to impress this season. Courtland Sutton proved in 2019 that he can be a top-class receiver and first-round rookie Jerry Jeudy looks an exciting prospect. Tight end Noah Fant goes into his second season having shown plenty of promise and could have a huge year for the Broncos. Phillip Lindsay and Melvin Gordon make up the running back room and give them strong options on the ground behind a steady O-Line. The Broncos defense could be one of the best units in the NFL this season, Jurrell Casey looks a solid addition and if Bryce Callahan and Bradley Chubb can stay healthy after missing most of 2019 this is one of the most talented defenses in the league. The Broncos are taken to win the battle for 2nd place behind the Chiefs and the 6/4 on SkyBet is attractive.
Los Angeles Chargers – 8/1 (Bet365)
Projection – 3rd
Philip Rivers heads for the Colts after fifteen years under centre and his are big shoes to fill. Tyrod Taylor looks set to start at Quarterback and offers a mobility that Rivers could not. Getting going behind one of the worst O-Lines in the NFL though could prove a struggle and he is surely not the long-term answer, first-round rookie Justin Herbert will likely get opportunities to display his talents as the season progresses. O-Line and Quarterback questions aside the Chargers have talent on offense, Keenan Allen is a top receiver and is backed up by the useful Mike Williams. Hunter Henry is a dependable option at tight end. The running back options look exciting with Austin Ekeler offering a threat both rushing and receiving and Justin Jackson looking for a breakout season following Melvin Gordon's departute. Defensively the Chargers look high on talent and have addressed the issue at linebacker, picking up Kenneth Murray in the first round. The Chargers are an intriguing outfit going into 2020, they have talent but the questions at Quarterback and the weak O-Line give Denver the edge in the battle for second in the West.
Las Vegas Raiders – 11/1 (Bet365)
Projection – 4th
The 2020 Raiders are a difficult group to assess. Quarterback Derek Carr is clearly talented but has a point to prove after a couple of underwhelming seasons, he has a new weapon in rookie Henry Ruggs, who could be a serious threat downfield with his electric speed. He should head the receiving corps and is backed up by tight end Darren Waller who put aside off field issues to prove himself a quality option in 2019. Outside of these two the receiving options look ordinary and there will be pressure on star running back Josh Jacobs to excel again behind a useful O-Line. Defensively, the Raiders have problems, they were awful in 2019 and despite adding new faces this season they still look short on talent, particularly in the secondary which is a contender for the worst unit in the NFL. The new residents in Las Vegas have some talent on offense but the glaring weaknesses in defense could ultimately cost them a winning record in 2020.