Follow along as we bring you all the latest from the NFL Draft.
We are also streaming live over on Facebook so you can hear our thoughts there. https://www.facebook.com/firstandtenNFL/?
And we are underway in the 2020 draft
1 Cincinnati Bengals – Joe Burrow, QB, LSU
Unsurprisingly the Bengals take Joe Burrow. He had a historic season at LSU last season and is rightfully the first overall pick. Can he bring some success to Cincinnatti?
2 Washington Redskins – Chase Young, Edge, Ohio State
No surprise again as the Redskins get what is widely considered to be the best player in the draft. That defence looks sneaky good now.
3 Detroit Lions – Jeffrey Okudah, CB, Ohio State
Lots of rumours of the Lions trading down but in the end they stay and pick. Jeffrey Okudah is the pick and with him they get an incredible corner to replace Slay
4 New York Giants – Andrew Thomas, OT, Alabama
They wanted to trade out but couldn't find a partner. The top four sticks as it is and the Giants take the first tackle and probably not the one most expected. Daniel Jones gets some much needed protection. Many thought it would be Thomas' Alabama teammate but Gettleman takes the player with the highest floor.
Side not. Dave Gettleman is wearing a face mask in his own house.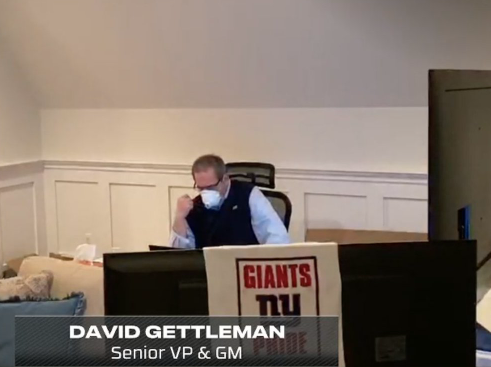 5 Miami Dolphins – Tua Tagovailoa, QB, Alabama
Rumours all week that they would go elsewhere, but the Dolphins stick with the man they have been after for a year and what could well be the best player in the draft.
6 Los Angeles Chargers – Justin Herbert, QB, Oregon
The third quarterback off the board and the top six is pretty much as expected for some time (other than the actual tackle taken)
They have got themselves a QB that if he had come out last year could have been the first overall pick
7 Carolina Panthers – Derrick Brown, DT, Auburn
Lots expected Simmons but the Panthers go DT and Brown. He is a big man that is going to disrupt those high powered NFC South offences
8 Arizona Cardinals – Isaiah Simmons, LB, Clemson
It looked like he could slide but the Cardinals surprise and take the freak defender in Simmons. He can do so much and the Cardinals have a hell of a player. The question is if they can use him properly.
9 Jacksonville Jaguars – CJ Henderson, CB, Florida
The Jaguars replace Ramsay and Henderson stays in Florida. Perhaps a reach and all three WRs and three of the four tackles are available
10 Cleveland Browns – Jedrick Wills, OT, Alabama
Wills was looking likely to go at four but now falls to 10. The Browns get a great tackle to go opposite Jack Conklin. Baker Mayfield has no excuses now.
11 New York Jets – Mekhi Becton, OT, Lousiville
Jets pass up on the WRs and go for the huge tackle from Louisville. Incredible athleticism and explosiveness. The Jets have got a potential star here.
Patrick Mahomes speaking for all of us here
12 Las Vegas Raiders – Henry Ruggs, WR, Alabama
The first wide receiver is off the board and it is not the one we expected. Raiders go old school and pick the fastest guy in the draft. Ruggs is electric but you have to wonder if they will regret passing on Jeudy or Lamb.
TRADE! First trade of the night as Tampa Bay move up to 13 and the 49ers drop back one place. Has to be for tackle right?
13 Tampa Bay Buccaneers – Tristan Wirfs, OT, Iowa
The Buccaneers go up and get the last of the big four tackles. They give Tom Brady some protection. Only going to be more time to find that host of receiving talent
14 San Francisco 49ers – Javon Kinlaw, DT, South Carolina
The 49ers trade down and take a defensive star in Kinlaw. He is a player that can be moved around all over the place and in this already strong 49ers front, he is going to wreak havoc
15 Denver Broncos – Jerry Jeudy, WR, Alabama
The Broncos get to sit where they were and perhaps get the best WR in the class. Him and Courtland Sutton is a scary pairing and Drew Lock has plenty of talent to throw to
16 Atlanta Falcons – AJ Terrell, CB, Clemson
The Flacons have a need at corner and take the best available player in that spot. Maybe a bit of a reach but he is a good player and instantly improves that secondary.
Now I bet the Cowboys did not expect to have CeeDee Lamb available to them
17 Dallas Cowboys – CeeDee Lamb, WR, Oklahoma
Wow, that offence is scary. Cooper, Gallup and Lamb is a scary group of receivers to go with Zeke Elliott. They had options here but they could not pass on a star WR.
18 Miami Dolphins – Austin Jackson, OT, USC
The Dolphins go straight out and get Tua some help. Great athleticism and without moving up they have picked up a great tackle.
19 Las Vegas Raiders – Damon Arnette, CB, Ohio State
A bit of a shock as the Raiders go corner and Arnette. Wouldn't have been many people's best available but Mayock has shown that he is willing to take a player early if he really likes them.
20 Jacksonville Jaguars – K'Lavon Chaisson, Edge, LSU
A great pick up for the Jags at 20. He has been my best player available for a few picks now and he has a lot of upside. Needs some work but he has so much upside and at 20 he is excellent value
21 Philadelphia Eagles – Jalen Reagor, WR, TCU
A bit of a shock as Reagor is the fourth WR off the board. We are getting to that point where these teams have very different values on players. Reagor is a talented receiver that has shown a lot. A smaller receiver that can give the Eagles a different element.
22 Minnesota Vikings – Justin Jefferson, WR, LSU
Here go the receivers. Jefferson head to the Vikings where he will replace Stefon Diggs. He had insane production in college so will be interesting to see how they use him
TRADE! The Patriots move out of pick 23. Looks like it is the Chargers sending 37 and 71 back the other way
23 Los Angeles Chargers – Kenneth Murray, LB, Oklahoma
I love Murray. One of my favourite players in the draft. A big move from the Chargers but they are getting a machine in Murray. He will be all over the field and can make play after play
24 New Orleans Saints – Caesar Ruiz, C, Michigan
The first interior guy comes off the board at 24. Ruiz is the best of the bunch and will help both Brees and Kamara. Not the most exciting pick the Saints could have made but they get a strong player that upgrades that line immediately
We are really getting into Jordan Love territory. Will somebody move back into the first for him? Colts seem an ideal spot.
TRADE! The 49ers trade up 31, 117 and 176 for this pick from the Vikings
25 San Francisco 49ers, Brandon Aiyuk, WR, Arizona State
The 49ers move up to take WR. They could have got one at 13 but instead make this move and select Aiyuk. Much needed help on offence for the 49ers and he makes it a second straight Arizona State WR in the first round after N'Keal Harry a year ago
TRADE! Packers move up to 26 as the Dolphins move back. Miami adds pick 136 to move back four spots.
26 Green Bay Packers – Jordan Love, QB, Utah State
Wow. Big move here as Packers seemingly draft the successor to Aaron Rodgers. This has the feel of Favre/Rodgers back then and it has happened again. Everyone thought they were adding weapons for Rodgers but they are drafting his replacement.
27 Seattle Seahawks – Jordyn Brooks, LB, Texas Tech
The Seahawks actually make a first round pick and it is a linebacker. A very unexpected pick here. What more would you expect from Seattle?
28 Baltimore Ravens – Patrick Queen, LB, LSU
The Ravens had been linked with a trade up to get a LB but they stick at 28 and get the player many thought they would select anyway. Queen was many peoples LB1 and at 28 the Ravens get a player that will excel behind that excellent line. They have filled one of their few needs.
29 Tennessee Titans – Isaiah Wilson, OT, Georgia
The Titans beef up that offensive line with a great run blocking tackle. With Conklin out the door this makes a lit of sense. They are paying Tannehill and Henry a lot of money. This gives them the best chance to pick up where they left off.
30 Miami Dolphins – Noah Igbinoghene, CB, Auburn
Lots of options here for Miami. RB discussed a lot but they go corner instead. A position of strength for Miami so a surprise pick, but he is an excellent athlete that will add a lot to the Miami secondary.
31 Minnesota Vikings – Jeff Gladney, CB, TCU
As expected the Vikings go corner and WR with these two firsts. Gladney has a lot of potential that needs some work, but the Vikings get some much needed youth and talent at the position
32 Kansas City Chiefs – Clyde Edwards-Helaire
So I guess my fantasy sleeper isnt a sleeper any more. He is a star in the making and has the chance to be a monster in KC. Hell of a pick up for the Super Bowl champs. My RB1 and an excellent fit.
Thanks for following this first round with us. We will be back tomorrow with more coverage.
Let us know your thoughts on the picks so far.